April 9 is Easter this year. Soon we'll see the Sloe trees start to blossom and bluebells carpet the woods. Spring will really be here and it'll be time for Easter festivities. Most of the Spring activities in the UK come from the Pagan traditions celebrating the spring equinox and the goddess Eostre. Her sacred symbol was the hare which is where the Easter bunny comes from. It's about marking the end of winter and nature starting the cycle of rebirth. And for me, Easter is more about the Pagan influence of the spring equinox. I enjoy the days getting longer; the sun showing its face; the land coming back to life and watching for the lambs bouncing in the local fields. I do also like the chocolate (mini eggs are still my favourite) and toasted hot cross buns. Did you know they are a Pagan tradition too?
While you wouldn't want to share the chocolate or hot cross buns with your dog, if you're looking for ways to get them in on the Spring and Easter festivities, try some of these.
Doggy Easter Egg Hunt
Hop into this fun and affordable tradition! Setup an Easter egg hunt in your home or outdoors. You'll need plastic Easter eggs and small, healthy treats like the range from J R Pet Products. You can get 10% through this affiliate link – Get a discount code for 10% off at JR Pet Products
For the Easter eggs, make sure you grab sizes that are appropriate for the dogs. For example, I'd buy larger sizes that my dogs wouldn't be able to pick up (and swallow) easily. Like these larger eggs, or these jumbo eggs.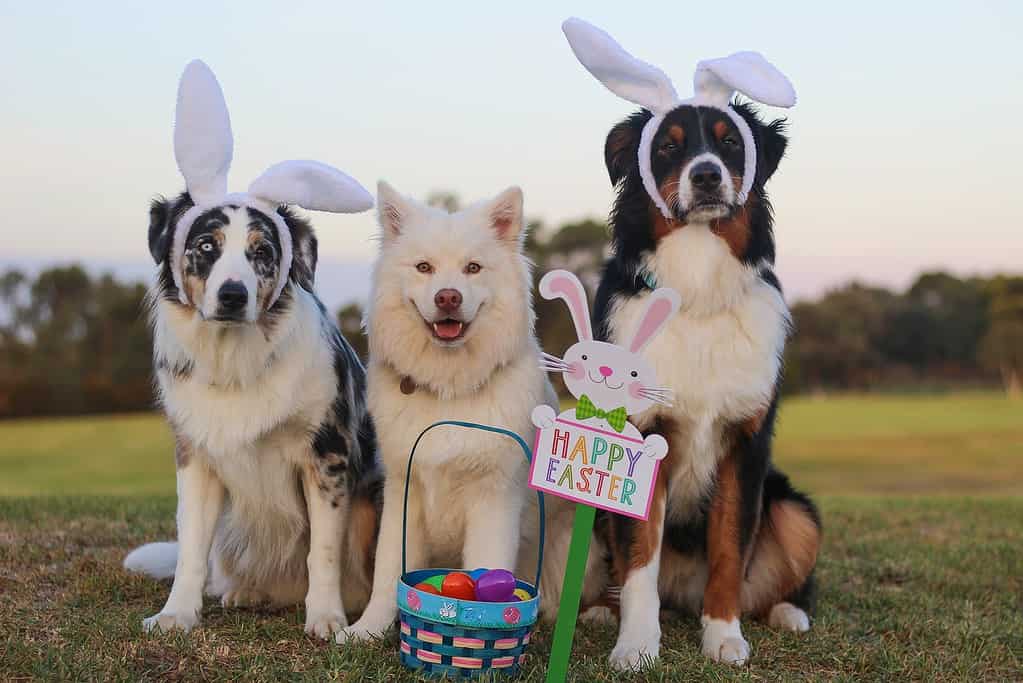 With larger eggs, once they've found them, you can be part of the fun and help them crack them open to reach the delicious goodies. You also want eggs that have small holes in them so dogs can sniff out the treats inside, if yours don't you can always poke a couple of holes through.
Put 1 or 2 small treats in each egg and hide them. If your dog is new to this type of thing, you can keep it easy and tuck them behind a flower pot, or even out in the open if they are cautious about new things. You can make it more challenging as they get experienced. Keep the hiding spot safe, so watch that the footing is stable and suitable for your dog. Keep it low if climbing up or jumping isn't something your dog can do easily. Watch out for thorns that can scratch if they dive in or nettles, etc.
Just keep in mind that this is not a good activity for dogs who chew on plastic or who crunch things up enthusiastically. Closely supervise the activity to keep it safe, and watch for any sign of guarding or aggression between dogs, or towards humans when they find the stash. If your dog looks lost, help them out by suggesting places for them to search.
If you're worried about your dog chewing up the plastic, how about hiding in small egg cartons instead? You can let them rip into it (as long as they don't eat too much of the cardboard) to get the treats out. You can make it harder by taping up the box, or folding it around the treats.
New Physical or Enrichment Activity
Spring is about coming back to life after a winter's sleep. Nature awakens, people refresh their living spaces, and it's a great time to give your dog something new, too.
Try a new activity with your pet. Walking new routes, signing up to a new training class, teaching new "tricks," hiking in new areas.
Since Fraggle (our 10-year-old pocket rocket Springer) was diagnosed with epilepsy, we have to be more careful about the areas she's allowed to run off lead in as the off lead excitement can trigger a fit. So I plan to test out new hiking routes where my dogs will stay on lead or long lines. They will need to learn how to hike together without racing around, and we'll get to visit places we've avoided because it's not safe for them to run off lead.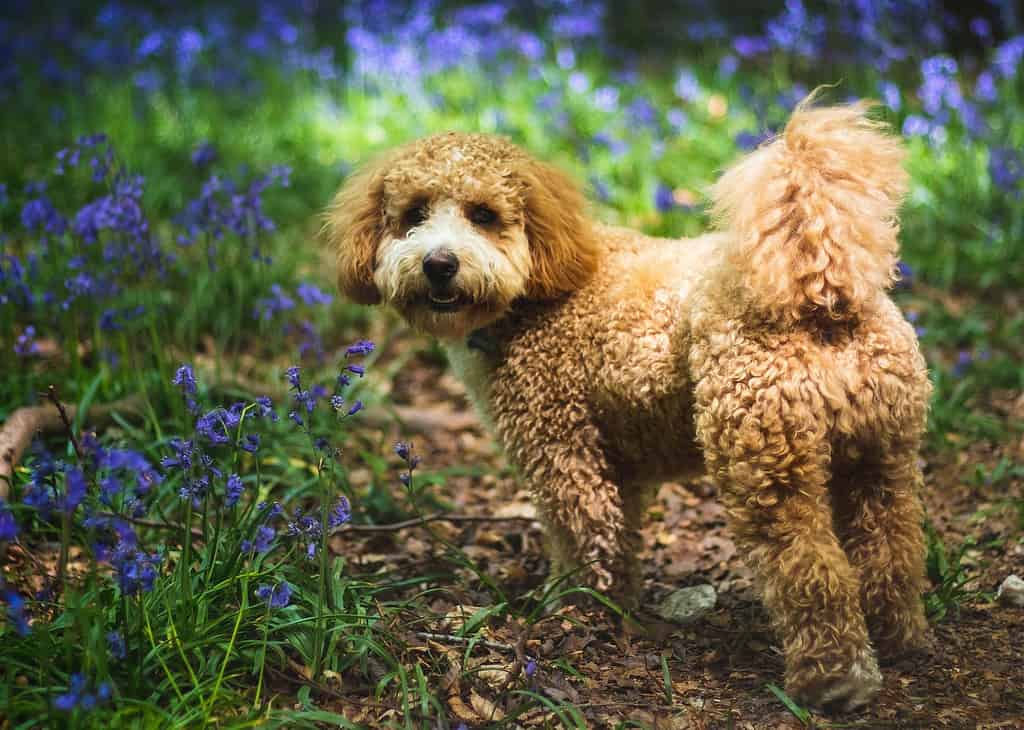 You can also refresh some of your pet's belongings. A new bed will spruce up your home for spring and give your pet something new to sniff and cuddle into. Or just a couple of new toys, or a change up your usual rotation of toys. Check under the sofa or beds for the ones that got away for a quick refresh.
Start That Training Plan
The idea of spring cleaning and starting fresh makes this a great time of year to kick off that training plan you've been putting off. Or restarting if it fell by the wayside.
The longer, hopefully sunnier days always make me feel more energised, and I'm more willing to do the things I tend to put off in the dark, cold winter months.
If you're planning on spending more time outside with your dog, you might think about refreshing your grooming and husbandry routines so that brushing and drying isn't such a chore. I mean, April showers are a thing. I'm still expecting muddy walks in the spring despite the increase in sunshine.
Or maybe you need to look at your routines when you're out and about. Especially if your dog struggles with things like other dogs or people. Your winter walks may have been quieter, but they are likely to get busier at this time of year, so brush up on your skills before you need to put them in action for real.
Easter Egg Dog Treats
It's no secret. Most dogs love peanut butter! For an unknown reason, I didn't bother with peanut butter for a long time. Then one rainy day I smeared a spoonful into some Kongs as I'd run out of my usual stash of stuffed treats. I was surprised at how long my crew were occupied for. They are known for de-stuffing frozen Kongs in less time than it took to make them usually. So now I have some peanut butter squirreled away for special occasions. Or when I've forgotten to prep.
Try this cute and tasty egg-shaped dog treat:
Completely melt equal parts peanut butter and coconut oil in the microwave or on the hob.
Stir and then pour it in a silicone egg-shaped mold. These are cute and have bunnies too.
Pop them in the fridge for about 2 hours and voila! You have crave-worthy treats.
Since these are heavy on the peanut butter, serve in moderation.
Safety Tip: Always check the labels on ingredients to avoid foods or additives that are dangerous for pets and people. If an ingredient is unfamiliar to you, look it up online. Some peanut butter brands contain xylitol, a sweetener that is toxic (even deadly) to pets. And, of course, some people are allergic to peanuts, so ask before stuffing someone else's Easter basket!
If you're worried about the peanut butter content in these, how about peanut butter cookies in the shape of eggs?
Easter Egg Human Treats
OK so this one you can't share with your dog but humans love to eat pretty, tasty things too. Pinterest is springing with pastel-colored, no-bake treats you can try. My personal favourite has always been Chocolate Easter Nests. The only good use of shredded wheat in my opinion. Make sure you include a list of ingredients if you make a present of these to friends or co-workers.
This spring I plan to check out some new walks and take a long look at Flint's grooming and husbandry skills that fell apart a bit, I think, due to back pain from spondylosis. Now that's under control with medication, it's time to review and rebuild our routine.
What are you going to do during this season of renewal with your dog? If you've decided to tackle your dog's reactivity on walks and are looking for help, schedule a discovery call and we can talk about what help you need.