Well my last blog/email was more controversial than I had anticipated! Seems extendable leads split the dog owning community way more than I thought. My thanks to everyone who took the time to reply to me with your opinions. I'm afraid you haven't changed my mind though if you tried to argue their good points.
While I agree that all equipment has the potential to be misused and that the things I spoke about were indeed human error, I'm still of the opinion that extendable leads lend themselves to misuse through their design. I'll live in hope though that most users are as conscientious as all of you appear to be if/when you use them.
My own experience though suggests that you guys are in the minority and my recent short trip to Cornwall just cemented this belief as I had at least one encounter a day with a dog attached to an extendable lead that was not behaving in a manner that would enamour the non-dog owning community to dogs.
My husband and I spent 5 days in Cornwall last week doing a quick whistle stop tour of the place. Or rather 3 days in the middle with most of the Monday and Friday spent travelling. We had left our dogs behind. I'd never been to Cornwall so I wasn't sure exactly how dog friendly the place might be. Plus we have two youngsters and an oldie who have very different exercise needs and I worried that mooching around for a few days wouldn't be adequate for the youngsters while being too much for the oldie. Besides no matter how much it might make us feel guilty, being dog free is sometimes enjoyable, especially if you have dogs that are full on, or need special consideration in some way.
I was pleasantly surprised to see that every single place we visited welcomed dogs to some degree. There were some restrictions and generally the dogs had to be on lead at the tourist sites but we could have taken them everywhere – even to the Eden project, just not in the domes.
What I wasn't so pleased to see was dog owners having complete disregard for others or the places they were visiting. At the Lost Gardens of Heligan we came across a large Labrador (on an extendable as it happens) being allowed to dig in the flower beds! Often dogs would come around corners long before we saw anyone accompanying them. Many times my husband and I had to walk way off the path to avoid getting tangled in (extendable) leads. I saw dogs that were clearly uncomfortable being approached by people or other dogs being pushed into situations that they couldn't cope with. There were also a lot of lame dogs being walked on strenuous terrain in high temperatures. It was actually pretty hard to watch a lot of the time.
Maybe I'm being unfair and you could probably argue in the last two cases that maybe their owners didn't know that really there was a problem or how to mitigate it. But often it seemed it was just plain disregard for other people or the space they were in that created those situations. And that makes me cross. I was surprised how many places would allow dogs in Cornwall, because I've become more and more used to dogs not being welcomed. And the reason I think many dogs are not welcome is that some owners do not consider the impact their dog and his behaviour has on others.
Of course dogs are dogs and we shouldn't expect little automatons at the end of the lead. But I do think that when you are out with your dog you have a responsibility to make sure that you and your dog's enjoyment does not mean someone else's inconvenience. It's only fair, to everyone else, and your dog. And you. I'm sure that many of the owners that I thought *were* inconsiderate, probably didn't mean to be. They just didn't really know how to handle their dog to get the best outcome for everyone. Which is why I think there's a lot of leverage in lifeskill style classes.
You don't need an obedient dog, you need a well behaved one and there's a difference. A really most excellent difference that gets me all kinds of excited – yeah I'm weird, I know. It's all about the cues. And being able to be lazy. I'll write more next time I promise.
Until then enjoy a picture of what has become my most favourite place on earth – Tintagel. Definitely not a place for off lead dogs though, well not my dogs at least.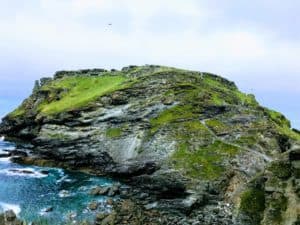 My final reminder that if you want to continue receiving these emails after the GDPR rules kick on 25th May you're going to have to sign up again so I can be absolutely sure you really want them.
I know, I know, but this is the very last time I'll go on about it. On the 25th I'll be switching lists and deleting the old one so if you haven't signed up you won't be getting any more of these.
I'll be sad to see you go, but thanks for reading the inane ramblings of a mad (dog) woman up until now.
To finish up – did you vote for the classes that would most interest you last week? I have to say I've been a little surprised by the results. Do feel free to add any extra suggestions for things you'd like to do too, or email them to me.