If that title had you wondered whether I'd finally gone all woo woo, you'll be glad to hear that no, I haven't. There has been no huge revelation for me, or at least not in the way that these stories usually play out.
But we have had a sudden change in our lives.
We are in the midst of a global crisis. Coronavirus has meant that our lives have had to change. Honestly, I think it means that some things are going to stay changed forever. We were probably on course for some of those changes over time, but now we've been forced into it I expect some will stay the course.
Like working from home becoming more acceptable and not seen as covert shirking anymore. I'm fully expecting that many businesses whose workers have been forced to do their daily jobs at home will come to realise that actually there is far less need to have bodies in offices in front of computers for 8 hours a day than previously thought. As someone who has been able to work from home several days a week for many years I would still love to reduce my commuting days even further.
I'm expecting that teaching will change too. We've been forced to be creative in the way we can use technology to teach remotely. There have of course long been online learning opportunities, my behaviour BSc degree was primarily distance learning, but I think this pandemic will probably mean that universities and maybe even schools, will take stock and see what opportunities there might be to make these emergency measures more permanent in the future. I'm not the only one who thinks the pandemic will be a catalyst for changes that would have happened more gradually without it.
The coronavirus outbreak has been a catalyst for me too.
The COVID-19 pandemic has given me the opportunity to experiment with how to use technology to work remotely with people. This was something I wanted to explore more anyway to cut down on my driving time and I think it's going to be something that will stick after this is all over.
Currently, people are concerned about the future and many of you may have monetary worries. I don't want dog training to be something you need but can't afford right now, so while I'm experimenting during this crisis anything I put on is going to be free. That's not something all trainers can do I know, but I can so I am.
I'm pretty sure that if you are stuck at home you'd prefer for me to be putting things on during the day, but well my daytime working hours have extended as a lot of my colleagues are also having to manage children and homeschool, so evenings it is. Sorry about that.
Every Monday evening at 7pm we have cocktail hour online. Join us (that's me and Alison) to ask questions, spend some time with other dog owners in the same circumstances, tell us what ridiculousness your dog has been up to (it can't just be me and mine).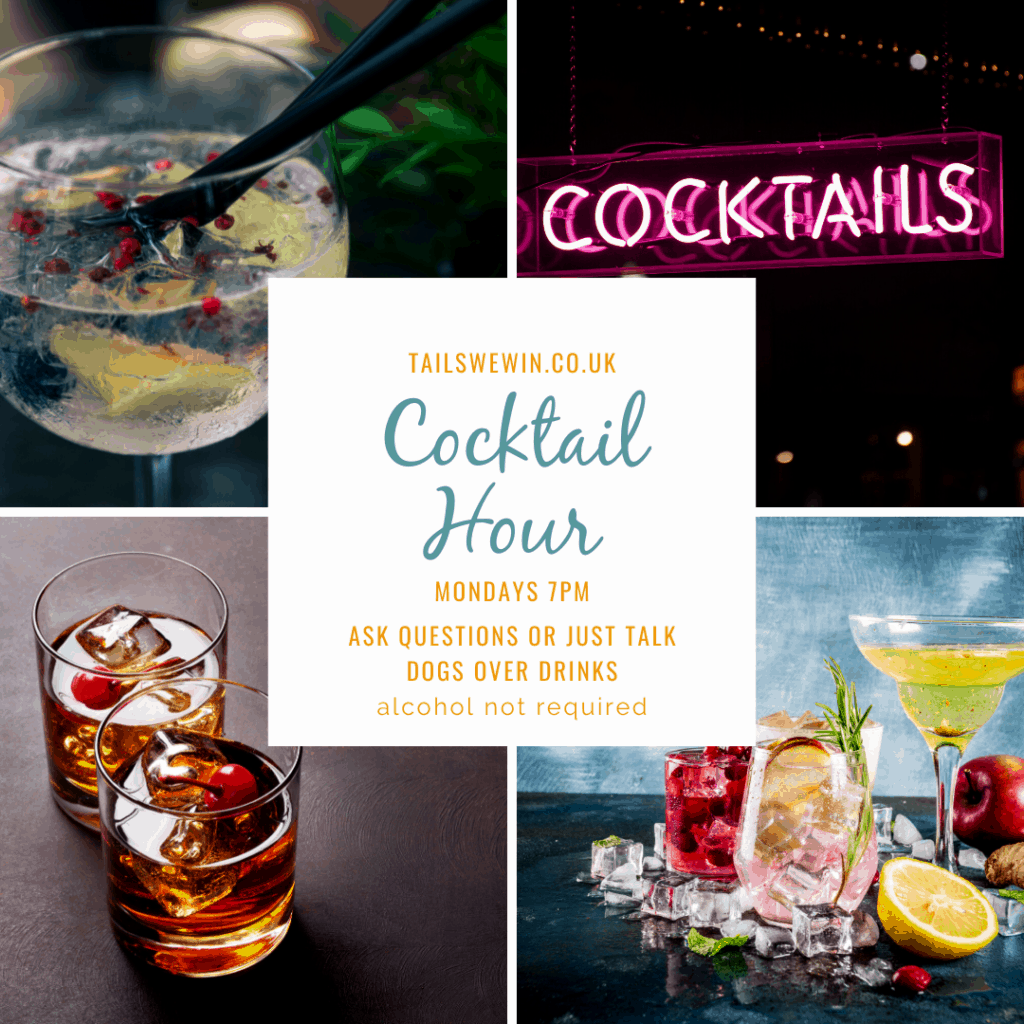 I'm also putting on Train Together Thursdays. Again 7pm online. I'll put out a challenge or two for you to train with your dog on Sunday night (or Monday morning if it's been that kind of week). If I'm feeling generous I'll include some helpful starter notes. Then we will get together on Thursday night to get feedback and/or show off. I'll be putting up the challenge on Facebook/Instagram but my email list will get the helpful hints.
Full admission. Part of the motivation for this is some accountability for me. The current lockdown has highlighted that my spaniels are incapable of walking together on lead without it pissing me off. Even without the old wobbly one, the other two would make it not fun at all anyway. So expect there to be a loose lead walking-related challenge most weeks, if not every week – after years of saying I'll do the training I'm finally being forced to by a virus.
I'm sure I'll get other ideas on how I might be able to help. In fact, I know I will because I've got something else up my sleeve but decided for once to know try and do all the things at once. I think they'd call that personal growth. Go me.
I'd love to see some familiar and new faces at these online events. While you need to register with Zoom to be able to attend, it won't cost you anything. You just need a laptop or mobile device with camera ideally, an internet connection and be willing to participate and let me experiment a bit. I hope it will be useful for all of us.